Gift & Estate Planning


Maximize your Philanthropic Goals

Saturday December 9, 2023
Finances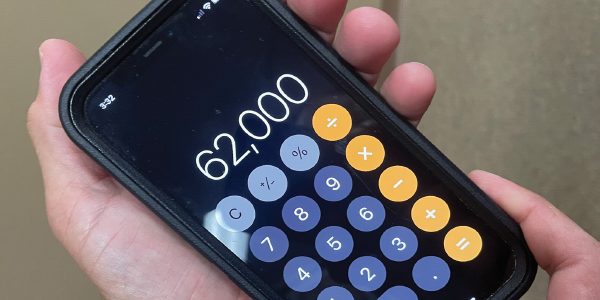 Albertsons Releases Quarterly Report
Albertsons Companies, Inc. (ACI) reported its second quarter earnings on Tuesday, October 17. The grocery company reported increased revenue and lower earnings causing the stock to remain relatively unchanged after the release of the report.

The company reported net sales of $18.3 billion for the quarter. This is up from $17.9 billion reported at the same time last year and in line with analysts' estimates.

"During the second quarter, we continued to execute against our Customers for Life transformation strategy and drive solid operating results, despite increasing macro-economic headwinds," said Albertsons' CEO, Vivek Sankaran. "As we look ahead to the balance of the year, our focus remains the same – advancing operational excellence in our stores, driving growth in our digital and pharmacy operations, and deepening our relationships with our customers."

The company reported net income of $266.9 million or $0.46 per adjusted share. This was a decrease from the same quarter last year when Albertsons reported net income of $342.7 million or $0.59 per adjusted share.

Albertsons' boost in net sales was driven by the company's 2.9% increase in identical sales. Digital sales increased by 19% and the number of loyalty members grew by 17% to 37.4 million members. Albertson's gross margin rate decreased 37 basis points to 27.6% compared to 27.9% during the second quarter of last year. The decrease was attributed to a growth in pharmacy sales and fewer COVID-19 vaccines. In October, the company announced a merger agreement with the Kroger Company (Kroger) whereby Kroger will acquire all the outstanding shares of the Company's common stock for a total consideration of $34.10 per share. If the merger is approved, Kroger will sell 413 of Company's stores to C&S Wholesale Grocers.

Albertsons Companies, Inc. (ACI) shares ended the week at $22.27, down 2% for the week.


Bank of America's Third Quarter Results

Bank of America Corporation (BAC) released its third quarter results on Tuesday, October 17. The company topped analysts' expectations, causing shares to climb more than 2% after the release of the report.

Revenue came in at $25.2 billion during the third quarter, up 3% from revenue of $24.5 billion at this time last year. The results exceeded analysts' expectations of $25.1 billion for the quarter.

"Our teammates delivered another strong quarter," said Bank of America CEO, Brian Moynihan. "We added clients and accounts across all lines of business. We did this in a healthy but slowing economy that saw US consumer spending still ahead of last year but continuing to slow. Our growth in revenue and earnings allowed us to continue our investments in our people and technology to drive an enhanced client experience."

The company reported net income of $7.8 billion for the quarter or $0.90 per diluted share. This is up 10% from $7.1 billion or $0.81 per diluted share in the same quarter last year.

Bank of America's Consumer Banking segment generated net income of $2.9 billion on revenue of $10.5 billion during the quarter. The segment added over 200,000 new Consumer checking accounts, marking the nineteenth consecutive quarter of growth. The segment also recorded 46 million active digital banking users and produced 1.5 million in digital sales, a 19% decrease compared to the previous year. The company's Global Wealth and Investment Management segment garnered net income of $1.0 billion with client balances increasing 9% to $3.6 trillion, driven by higher market valuations and positive net client flows.

Bank of America Corporation (BAC) shares ended the week at $26.31, down 3% for the week.


Netflix Releases Quarterly Earnings

Netflix, Inc. (NFLX) released its third quarter earnings report on Wednesday, October 18. Despite the ongoing SAG-AFTRA strike, the company's stock prices increased by 16% following the report of subscriber growth.

Netflix posted quarterly revenue of $8.54 billion. This is up 8% from the $7.93 billion in revenue reported at the same time last year. Revenue was in line with analysts' expectations.

"The last six months have been challenging for our industry given the combined writers and actors strikes in the US," wrote Netflix in a letter to shareholders. "While we have reached an agreement with the WGA, negotiations with SAG-AFTRA are ongoing. We are committed to resolving the remaining issues as quickly as possible so everyone can return to work making movies and TV shows that audiences will love."

For the quarter, Netflix posted net income of $1.68 billion or $3.73 per adjusted share. This is down from $1.40 billion or $3.10 per adjusted earnings reported at this time last year.

In the second quarter, Netflix saw its paid net subscriber additions come in at 8.8 million compared to an increase of 2.4 million in the year prior and higher than estimates of 5.49 million. The company's Average Revenue per Membership (ARM) reported a decline of 1% year-over-year attributed to a number of factors such as higher percentage of membership growth from lower ARM countries, limited price increases in the last year and a half and a shift in plan mix. Operating income for the quarter was $1.9 billion, up 25% from $1.5 billion last year. For the fourth quarter of fiscal 2023, the company expects revenue to come in at $8.7 billion which reflects an 11% year-over-year growth.

Netflix, Inc. (NFLX) shares closed at $400.96, up 13% for the week.

The Dow started the week at 33,832 and closed at 33,127 on 10/20. The S&P 500 started the week at 4,342 and closed at 4,224. The NASDAQ started the week at 13,454 and closed at 12,984.

Treasury Yields Climb
Treasury Yields climbed throughout the week as investors digested the latest data on consumer spending. Yields ticked down Friday despite the latest jobs data report showing a resilient labor market.

On Tuesday, the Commerce Department reported that retail sales for September rose 0.7%, without adjusting for inflation. This exceeded Wall Street's projections of a 0.3% increase. Sales, excluding auto and gas, showed an increase of 0.6%, also surpassing analysts' expectations of a 0.1% increase.

"The U.S. consumer cannot stop spending," said Vice President of Market Intelligence at TradeStation, David Russell. "All three retail sales reports for Q3 were above estimates, which puts us on track for a strong GDP number later this month. It also gives the Fed zero reason to loosen policy, which keeps the 10-year Treasury yield pushing toward 5%."

The benchmark 10-year Treasury note yield opened the week of October 16 at 4.63% and traded as high as 5.00% on Thursday. The 30-year Treasury bond opened the week at 4.77% and traded as high as 5.12% on Thursday.

On Thursday, the U.S. Department of Labor reported that initial claims for unemployment decreased by 13,000 to 198,000 for the week ending October 14. Continuing unemployment claims increased by 29,000 to 1.73 million.

"Initial jobless claims fell to their lowest level since January last week, a reminder – if we needed one –that layoffs remain very low," said Lead U.S. Economist at Oxford Economics, Nancy Vanden Houten. "The Fed will need to see more softening of labor market conditions to be persuaded that inflation is on a sustainable path back to 2% before embarking on rate cuts."

The 10-year Treasury note yield finished the week of 10/16 at 4.93%, while the 30-year Treasury note yield finished the week at 5.11%.
Mortgage Rates Continue to Rise
Freddie Mac released its latest Primary Mortgage Market Survey on Thursday, October 19. The survey showed 30-year mortgage rates inched closer to 8%, maintaining a level that has not been seen in 23 years.

This week, the 30-year fixed rate mortgage averaged 7.63%, up from last week's average of 7.57%. Last year at this time, the 30-year fixed rate mortgage averaged 6.94%.

The 15-year fixed rate mortgage averaged 6.92% this week, up from 6.89% last week. During the same week last year, the 15-year fixed rate mortgage averaged 6.23%.

"Mortgage rates continued to approach 8% this week, further impacting affordability," said Freddie Mac's Chief Economist, Sam Khater. "In this environment, it is important that borrowers shop around with multiple lenders for the best mortgage rate. With research showing down payment is the single largest barrier to first-time homebuyers attaining homeownership, borrowers should also ask their lender about down payment assistance."

Based on published national averages, the savings rate was 0.46% as of 10/16. The one-year CD averaged 1.79%.

Editor's Note: The publicly available financial information is offered as a helpful and informative service to our friends. This article is not an endorsement of any company, product or service.
Published October 20, 2023
Previous Articles
Costco Releases Earnings Report
AutoZone Releases Earnings Report